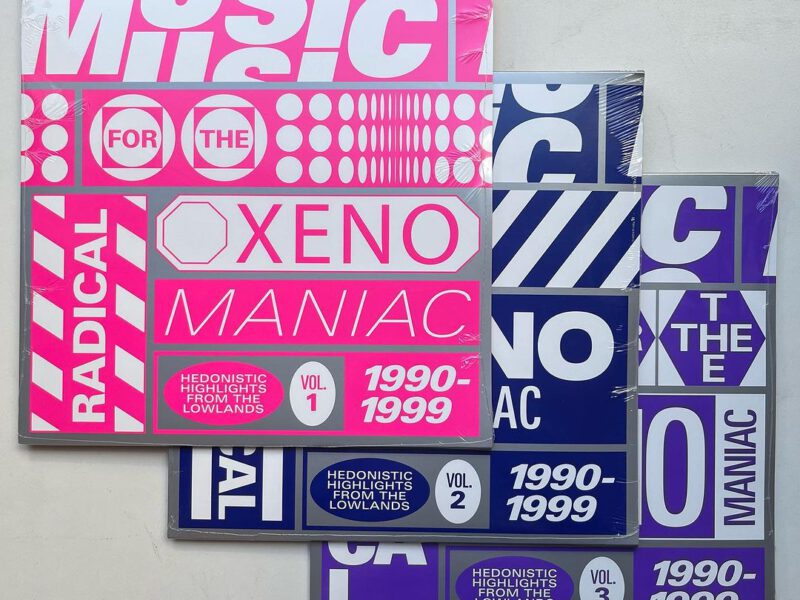 02 Nov

RELEASE | Music for the Radical Xenomaniac

Music for the Radical Xenomaniac celebrates 90's electronic music from the Netherlands through a brand new music compilation series that 35 well curated tracks by Christiaan Macdonald (Rush Hour co-founder) and Arne Visser (DJ Cinema Royale).

Through 35 hedonistic highlights stretched across three volumes, Music For The Radical Xenomaniac delivers the first ever deep dive into The Netherlands' colourful house sound of the 90s and the under-celebrated producers and record labels whose music soundtracked a countrywide cultural movement. Plenty of books and documentaries have celebrated the riotous raves, legendary clubs, high profile DJs and promoters who shaped The Netherlands' hedonistic house scene throughout the 90s. Music For The Radical Xenomaniac dares to challenge these narratives by shining a light, for the first time, on those who created the scene's kaleidoscopic, game-changing and globally influential soundtrack.

Leading the charge were a disparate group of key creators who not only forged links with their counterparts in Detroit, Chicago, New York, Belgium, Germany and the United Kingdom, but also became celebrated figures on the worldwide electronic underground (Eric Nouhan, Aad De Mooy, Orlando Voorn, Stefan Robbers and Steve Rachmad). Alongside key underground imprints (Stealth Records, Basic Energy, ESP, Prime and Outland Records included) and lesser-known producers, these pioneers gave flavour to a radical musical movement via open-mindedness, unheard-of creativity and a genuinely futuristic ethos. All of these artists and labels are represented throughout the series.

So, what defined this hedonistic house sound from The Netherlands? Stylistically, it was varied – as the series so emphatically proves – but was defined by a set of distinctive sonic characteristics: emotive musical motifs, high-frequency synth sounds, mellow basslines, pulsating rhythms and more than a touch of hallucinatory intent.

Volume 1 boasts a wealth of notable tracks and slept-on gems. There's 'No Strings Attached (Freedom of the Soul Work)' by Marionette, a magical spell of percussion-rich fairy-tale house from 1991 courtesy of R.o.X.Y Amsterdam resident DJ Dimitri and mellow pioneer Eric Nouhan, and the sole single by Eindhoven techno producer MAX404 as Faceless Techno Bastards, the rushing excellence of 'Go Mellow'. Other highlights include Rachmad Project's 'Summer Breeze', a chirpy house masterpiece from foundational producer Steve Rachmad that first appeared on Outland Records offshoot Spiritual Records, a genuine oddball obscurity from John Krengiëlczak as Land of Fantasy, Tales And Myths ('And They Lived Happily Ever After'), and a seriously sought-after cut from Rotterdam duo Space Trax, 1992's 'Aura'.

Volume 2 contains a wealth of notable tracks and slept-on gems. These include Q's 'From Within (Body Mix)', a lesser-known cut from the trio better-known as Quazar (Gert van Veen, R.o.X.Y co-founder Eddy De Clercq and Eric Cycle), Eric Nouhan's melodic masterpiece 'Technobility', which is appearing on vinyl for the first time since 1994, and a rare track by Signum Recordings's Maarten van der Vleuten, which was initially released on a special R&S Records' offshoot set up by the label's co-founder, Renaat Renaat Vandepapeliere (Integrity II's 'Living In Fantasy'). Other highlights include Exposure's 'Love Quest', a highly sought-after 1991 track by The Hague-based DJ/producer Maurits Paardekooper, and an ambient-infused Andrew Weatherall favourite originally released by Stealth Records in 1993, Hole In One's 'Spiritual Ideas For Virtual Reality'. Packed full of forward-thinking 90s gems remastered for today's dance floors by Alden Tyrell, Music For The Radical Xenomaniac Volume 1 is a life-affirming celebration of a distinctly Dutch musical movement, whose rich textures and melodies are still inspiring new generations of DJs and dancers today. This release also includes Tons Of Tones – Oh Ah Oh Ah Oh, a track by Steve Rachmad.