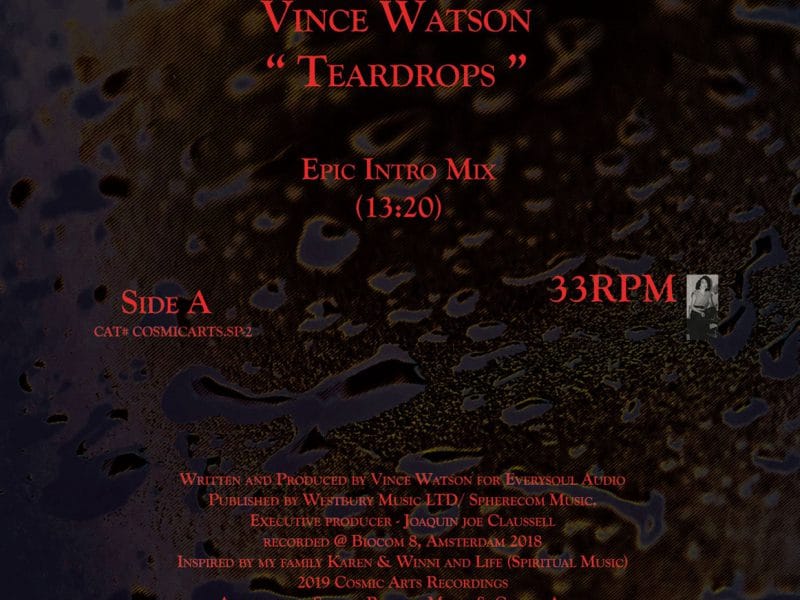 30 Oct

Vince Watson – "Teardrops" | Cosmic Arts Music

Produced, written and performed by Vince Watson. Executive producer Joaquin Joe Claussell.

Followed by the huge success and now eagerly sought after 12inch composition titled "Divine Harmonics".Produced and Performed Kuniyuki Takahashi. Cosmic Arts Music (a division of Sacred Rhythm Music) brings to you the second installment of unique story telling by the way of Atmospheric Soundscapes, Rhythm and Melody. Next up in this series is a man that needs no introduction.

A Note from The Artist himself: "It's been a long time in the making, but to finally release a piece of art with Joe is a dream come true. 'Teardrops' is part of a whole series of music I wrote just after my daughter's birth, and I think you can hear that in the music. And to release it on such a dope label is a special thing for me (and Winni). I wanted to do something different. Something out of the ordinary that stands out…I think a 5min beat-less intro is about as brave as I could be. I want to thank brother Joe Claussell for his full support and belief in my music and me as a musician since the late 90's." – Vince Watson

Click here to pre-order.